Adding Value: Landscaping
Posted by RRE Admin on Friday, April 29, 2022 at 1:30 PM
By RRE Admin / April 29, 2022
Comment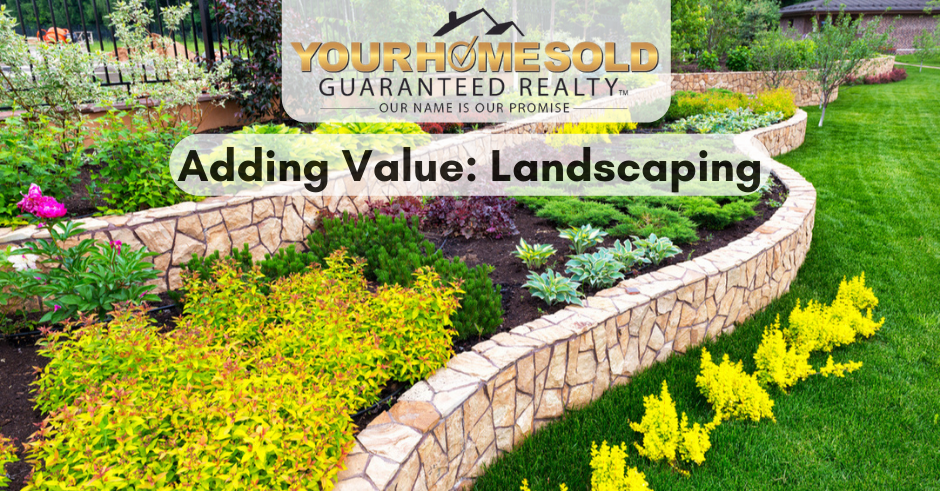 Adding value through landscaping:
Fresh flowers, vibrant lawns, and lush greenery provide oxygen, reduce stress, and enhance our sense of well-being. You reap additional benefits from landscaping your house when on the market, including increased buyer interest and a better asking price.
Your bank account will be flush with cash at closing if your curb appeal is outstanding - and you don't have to spend a fortune to impress buyers. A lawn that receives regular upkeep - mowing, fertilizing, and controlling weeds - recovers 267% of the cost during the sale.
The appearance of your home on the outside sets the tone for what lies inside. How does landscaping contribute to the value of your home? Which projects should you start with first? Please pull up a patio chair, and let's see what happens.
Landscaping costs versus value
Among the various studies on the ROI of landscaping, one common thread emerged: Landscaping significantly increases the value of your home. Research shows the following:
Landscaping increases the value of a home between 1% and 10%.
Depending on where you live, buyers attach more value to your home when you pay more attention to landscaping - anywhere from 5% to 12% more. A study found the most significant effect on property values was the size and sophistication of the plants (usually hedges, flower beds, and perhaps shade trees), along with focal points in the yard.
You should spend more money and time on landscaping if your home is more expensive and your property is more extensive. Think of it as a multiplier.
According to ASLA, you should invest 10% of your home's value in landscaping; other studies suggest investing the same percentage in maintaining and upgrading your landscaping to increase the value of your home.
If your house is valued at $140,000, it's recommended that you spend at least 14% of that amount on new landscaping for a 1,200-square-foot yard. It's also possible that you only pay a fraction of that amount and still get a great deal of value. If you budget for lawn and landscape maintenance throughout the year, you might not even spend that much.
Approximately 60 annuals and perennials can be planted year-round for about $3,000, depending on the season, according to the National Association of Realtors (NAR) and the National Association of Landscape Professionals (NALP). Once sold, these investments will return 100% on investment (ROI).
The value of a lawn care service of around $268 is estimated to be about $1,200—a 352% return on investment. When closing, the cost of adding fresh mulch is about $340, which recoups about 126%.
Make your home look great without breaking the bank.
Here are some simple things you can do to create striking curb appeal without spending a lot:
Grass should be edged and cut.
If you own a mower and edger, the work can be done by yourself. Depending on the size of the lawn, mowing can cost anywhere from $30 to $80 per visit, with extra charges for edging. Nonetheless, if trees are close to your home or overgrown, or if they are exceptionally tall or overgrown, you should let a landscaper handle them. This can cost $75 to $1,000, depending on their height.
Keep in mind that too much shortening or too frequent cutting can result in brown patches and more sunlight reaching the weeds, which will make them grow. According to Lowe's, you should never reduce the blade's length by more than one-third. When the grass is dry, mowing will produce fewer clumps, and leaving the clippings on the lawn (unless they are clumpy) will help return nitrogen and nutrients to your yard.
Refresh the mulch.
A mulch-covered landscape retains moisture, reduces weeds, and looks fresh. A bag covering two cubic feet costs as little as $1.60. Home Depot has an online calculator if you need help estimating how much mulch you will need.
Red mulch is usually made from recycled wood chips, which decompose quickly, despite its popularity in commercial areas. While brown mulch loses its color after a year, it makes plants appear vibrant because of its color. If you live in a colder region, choose black mulch since it retains heat and keeps out sunlight.
A flower arrangement adds beauty.
Colorful potted flowers and plants can be found for about $100 or less. Plant plants of the same type or color in groups in threes, fives, or sevens. Plants will "drift" along your landscape, adding flow and an impact more significant than simply scattering them; you will also see them move your eye pleasantly along the landscape.
Backyard paradise!
Creating an oasis in your backyard is an excellent way to highlight it. Follow these steps:
Clean up the garden
Creating the illusion of ample green space can be achieved even with a small yard. By placing plants of different sizes and tiers in planters, the landscaping will look more attractive, adding both depth and height.
Using colors such as cobalt as accents and flowers will create a calming, rich environment. In addition, it's becoming increasingly common to repurpose items in the garden. For instance, a cracked birdbath makes a bold statement as a planter.
Maintain your deck.
Weather can destroy a deck using its corrosive effects, resulting in faded stains and cracked wood. The National Association of Realtors recommends power-washing your deck and applying at least two new coats of stain to keep it looking and performing well.
With the right equipment (renting an electric power washer costs approximately $39 per day, while stain costs roughly $25 to $30 per gallon), this project can be completed by the homeowner or by a professional. To clean and stain a deck approximately 20' by 25' (or 500 square feet) takes three to five hours. For a handyman service to do it, it'll be around $1,000 or $2 per square foot.
Revitalize your patio.
A power washer can be used to remove dirt and cobwebs from the patio and any seating. Depending on the size and materials used, a walkway can be installed or remodeled for about $1,700 (depending on the size and materials used). You can also paint a pattern on an existing patio or walkway using concrete stain.
Add privacy and reduce noise.
The ambiance of an oasis can be enhanced by reducing noise and adding privacy if your house sits on a street with high traffic volume, near a traffic light, or on the corner of a neighborhood.
Container gardens should be strategically placed:

lawns and plants reduce noise levels by 20% to 30%. If you don't have enough established plants in your backyard to serve as a noise barrier (and you don't want to dedicate the money to plants you can't take with you when you move), place evergreens or Japanese maples in pots as a temporary solution. Home Depot sells Japanese maples for about $20 apiece; 2.5-quart Spartan juniper trees are about $19. It is best to place them on the patio, deck, or along the walkway, not on the grass, as the weight could damage the grass.

Add a water feature:

the use of a fountain can mask unappealing sounds by creating 'white noise.' Wi-Fi, Bluetooth, or a smartphone app to control your fountain or irrigation will maximize efficiency and tie into another landscaping trend.
Low maintenance, high beauty.
Low-upkeep landscaping is perfect for buyers who worry that they lack a green thumb, for those who want to conserve water, or who are concerned about upkeep.
Too specialized landscaping projects should be avoided.
It's possible we've inspired you to plan a whole new yard. However, don't go overboard before you set a budget or begin perusing the home store. The type of project you invest in will need to have a high return on investment, appeal to a broad customer base, or be something you can live in for an extended period. For example:
An outdoor kitchen:
It may exude luxury and attract homeowners in the high-end range to enjoy a full-blown kitchen on their patio, but it costs approximately $12,000 to $20,000 to install, with an estimated ROI of 71%. So instead, stage the same outdoor-dining area with a gas grill, cushioned seating, and end tables.
A fire feature:
A fire pit or fireplace in the landscape, such as a dry-stacked natural stone kit with a gas burner, increases marketability. However, you'll only recover about 67% of the installation cost at resale.
You should also check with your community to see whether such features are permitted or if the installation will affect your homeowners' insurance policy.
Swimming pools and saunas:
A three- to seven-foot-deep in-ground pool can cost approximately $60,000 when installing an 18*36-foot pool, including a standard filtration system. With an ROI estimated to be 43%, it may not be worth your time to sell your house. Additionally, you are eliminating buyers who are not keen on swimming pools or who do not wish to deal with maintenance.
Regardless of what happens to the landscape during your time in the home, it's undeniable that it can add value to your home in terms of psychological and emotional benefits while you live there and increase your bottom line once you leave.
Nonetheless, you need to talk with your real estate agent first about your competition, the market, and targeted buyers to turn your greenery into greenbacks. In the end, prioritize projects that cost less money first.