Decluttering Your Garage
Posted by RRE Admin on Monday, May 2, 2022 at 2:00 PM
By RRE Admin / May 2, 2022
Comment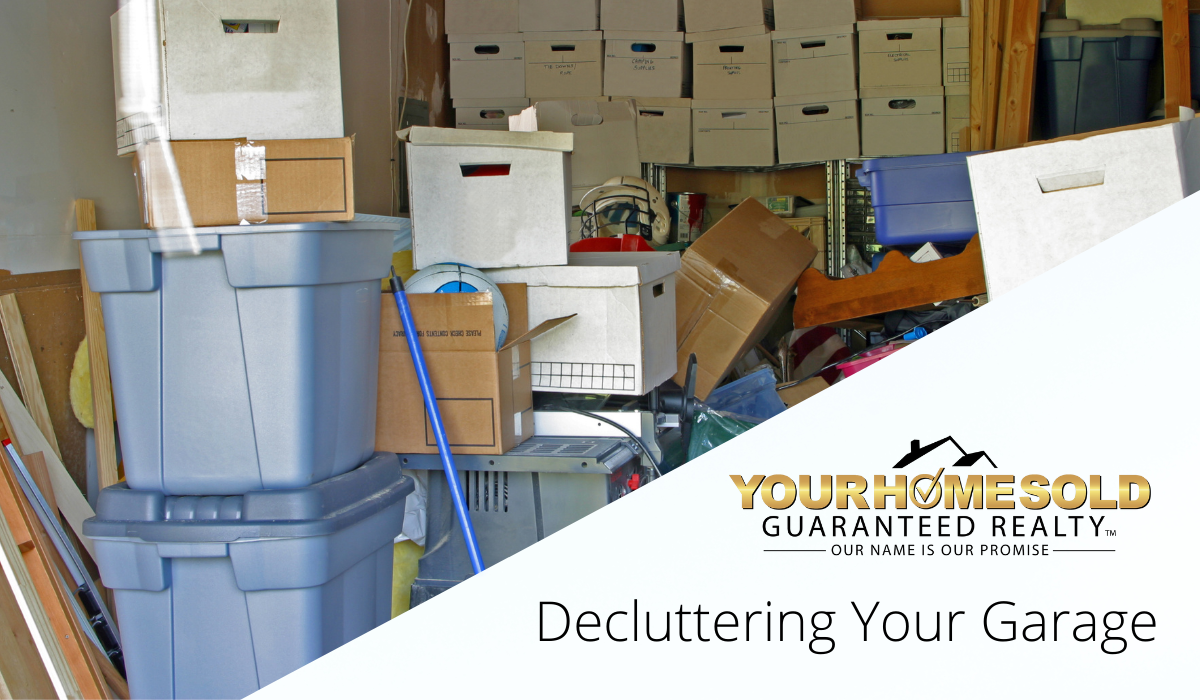 Empty Everything Out!
First, you need to identify what is in your garage to declutter it. Start by pulling everything out of the garage onto the driveway and sorting it out there. This will make it easier to work, but it will also help you determine how much space you have to work with and what type of storage would be best for storing items when you organize them.

Establish Your ''Keep'' Criteria
After removing all items, determine what to keep by setting some ground rules. This will speed up the process by preventing you from agonizing over each item separately. Instead, you should ask yourself, "Is this item in my garage because I couldn't figure out what to do with it, or is it just because it hasn't been used?" " In that case, either put it to use or discard it.

Things to Keep During a Garage Cleanout
During the past year, you have used these items more than once.

All items work. Get rid of all those items you've been meaning to fix.

The tools you can't borrow or rent.

Take Action to Get Rid of Garage Clutter
Everything that doesn't make your "keep" list is clutter by default. So get it out of your garage! Start by going through the remaining items you pulled from your garage after setting your "keep" items aside. Make a list of what you want to sell or donate first. Then, pack up donations when you work using bins, cardboard boxes, or bags you have on hand. Put trash in bags or boxes if it does not go into the "keep," sell," or "donate" piles. Renting a dumpster for your weekend cleanout will allow you to throw the garbage bags into it as you go.

Options for Getting Rid of Garage Clutter:
Donate It: Keep a shortlist of places where you can donate items as you clean out your garage. If you are unsure where to start, Goodwill, Salvation Army, or Habitat for Humanity are good choices, but call ahead. Don'tDon't give up if they won't take your things; you'll be surprised what your local community has to offer in terms of donation opportunities.

Sell It: Consider hosting a yard sale or selling it online if you'd like to earn a little money from your garage cleanout. Craigslist, Freecycle, and Facebook Marketplace are great options for advertising your yard sale or listing your items. In addition, you may find it helpful to do a little research online when deciding how much to charge for your items.

Pitch It: There is no point in keeping the clutter in the garage if it cannot be given or sold. Junk removal solutions will vary depending on how much junk you have and what items you're getting rid of. If you get rid of lots of large things like patio furniture or lawn care equipment, you may end up with a pile of stuff that's too big for your curb—renting a dumpster if you haven't already would be the easiest choice if you expect to need more than a couple of pickup truck loads.

Deep Clean the Space
You might want to scrub down your garage after thoroughly cleaning it out. Cleaning from top to bottom is the most effective method. Cleaning the cabinets and shelf tops and your refrigerator, if you have one, should be the first step. Then, with a damp cloth and a mild household detergent, wipe down your garage walls and the doors to your refrigerator and cabinets. After shaking off the dust, sweep the floor to remove it. Finally, mop and hose the floor to finish. Before putting things away, give the floors two to four hours to dry.

Cleaning Tips
You can easily remove motor oil stains with a wire scrub brush, dish soap, and cat litter.

Mold can be removed with diluted bleach or vinegar diluted in warm water.

Clean the garage walls using a sponge mop from top to bottom.

Dry the wall with a microfiber cloth and a flat head mop when you're done.

You can speed up the drying process of the floor by using a floor fan after mopping.

Get Organized
Once you have trimmed down your inventory and finished your garage cleanup, take advantage of the opportunity to prevent clutter from building up again. Which is the best method for organizing a garage? You should consider the items that you want to store.

Organization Tips
For easy access to frequently used items, use shelving units.

For less frequently used items, use cabinets or closets.

Tools such as hammers and hacksaws can be organized using a pegboard.

Put rakes and shovels on wall hooks, or keep them upright in a large, sturdy bin.

By grouping items by categories, you always know where to find what you need. You can also easily place items back where they belong once you are done

When Cleaning Out Your Garage, Take Your Time
There is no need to be overwhelmed when cleaning out your garage. Instead, if you follow these tips, you'll be able to reclaim your parking spot within a weekend - one step at a time.