Emergency Preparedness
Posted by RRE Admin on Friday, April 29, 2022 at 3:00 PM
By RRE Admin / April 29, 2022
Comment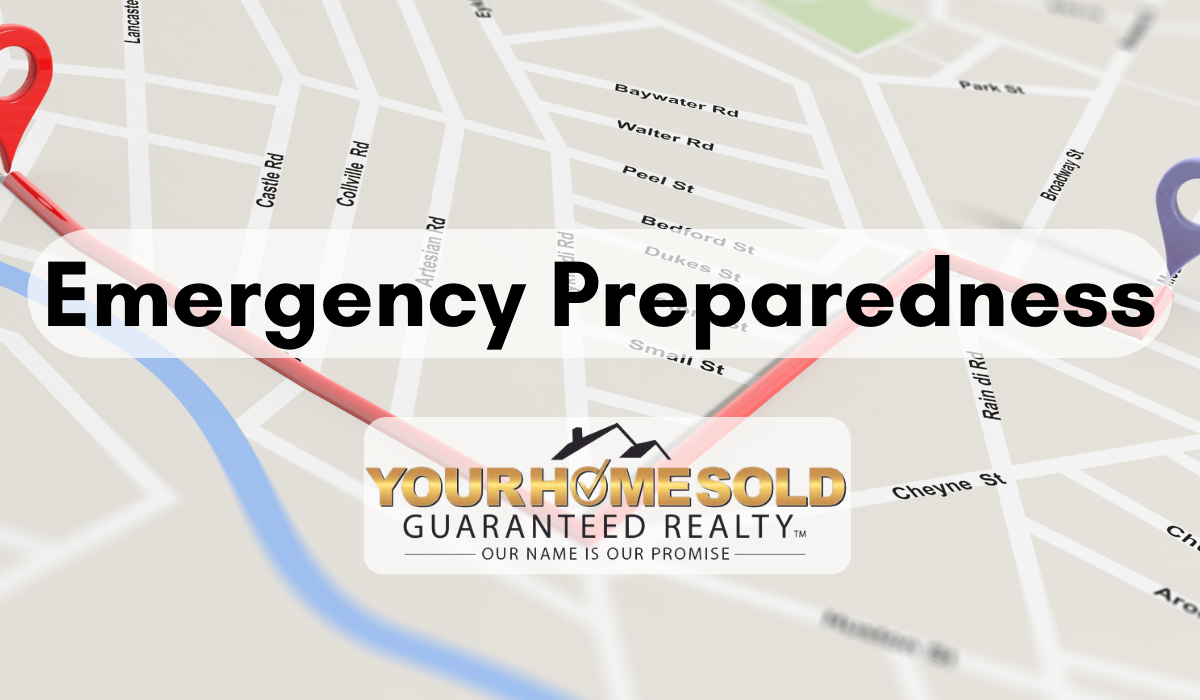 After a large-scale disaster, you need to take steps to rebuild. The steps are essential, but they can be hard to remember when under pressure. However, if a disaster occurs, being prepared will help you. The advice here applies to any major disaster, whether natural or man-made. Learn what you need to do immediately and what to do for the long term.
Immediate actions to take
It's easy to go into shock when a disaster is predicted or declared. It is unsettling to experience things like this because you never imagine they can occur. It feels unreal. You seem disconnected between your daily life and the events beyond your control.
Your preparedness plan needs to be implemented if you've already developed one. You must act now. If a disaster has just occurred or is about to happen, here's what you should do immediately.
Compile a list of all loved ones impacted by the disaster
Your priority after a disaster should be to contact your family members. Before making any decisions, find your family, friends, and pets. You can call your loved ones to check on their safety and inform them of your status if you have cell service.
Contact first responders
When you are in a dangerous situation, such as a fire, a crime, or a storm, you should call 911 as soon as possible. Prepare your phone with the fire department, the ambulance service, and the police. Additionally, your local authorities should be notified for their benefit and that of others who may be affected.
Inform your friends and family
An effective communication plan is essential for informing your friends and family. If your cell phone stops working and you have a working landline, you can have a printed-out list of phone numbers as a backup. In addition, you can keep phone lines free by simply posting on social media or sending an email to the family. This is if you don't want to tie up phone lines and still have internet access.
A family or friend meeting place is the best place to go if the infrastructure is down and you can't communicate. If you get separated, having a predetermined meeting place can help you get back together again. A large-scale disaster may require establishing one in your neighborhood, city, and outside your city.
Find emergency shelter if necessary
According to the type of disaster, you may need to seek an emergency shelter. An emergency shelter finder app is available from FEMA. You can also contact the American Red Cross, responding to large-scale natural disasters. Also, they provide emergency shelter for people who have suffered tragedies, such as fires.
If you're without your phone and facing a widespread disaster, you must trust your instincts. Structures may be unstable during earthquakes and large storms. Hence, you should pay attention to first responders and aid workers who may direct you to a safe place.
Sign up for disaster relief
State and local governments play a significant role in responding to disasters. If the government declares a disaster an emergency, assistance will come to the area. This especially applies if it's a large disaster and the federal government gets involved.
You can register for disaster relief at DisasterAssistance.gov. This website connects you to federal disaster relief resources. Be ready to provide your bank account information so that government agencies such as FEMA can transfer funds directly into your account.
File a claim with your insurance company
Your home insurance company needs to be contacted once everyone is safe and accounted for. It would be best to get this done as soon as possible since insurance claims are handled on a first-come, first-served basis.
The sooner you file an insurance claim after a widespread natural disaster, the faster you can get the money you need. However, remember that you can file an insurance claim at any time.
Snap a photo
Prepare your property for a storm, fire, or another disaster by taking detailed pictures before it occurs. Document the damage done to your property at this point. Your insurance company will also thank you for this documentation.
In the same way, you should take pictures if you or your property have suffered a crime. Again, your insurance company will help you if you were injured or your home was damaged due to the offense.
The medium-term task list
Recovery is a gradual process. You can focus on the next steps after the initial shock wears off and you have taken steps to ensure safety and aid.
After disaster strikes: how to recover and what it means for your home and mortgage -
Take Stock
During a disaster, document what was lost or damaged. Then, take care that your next steps don't cause you more problems and help you rebuild your life.
Supervise repairs
Your insurance company can oversee your home's repairs as soon as checks are cut. To find reputable, qualified contractors in your area, search the Internet and speak with your neighbors and family.
You still should consider renovating your entire house, even if only a portion of it is damaged. You can take advantage of this opportunity to refresh your home by remodeling your entire residence. This will ensure that the redesign is nicely integrated into your home. Insurance typically will only cover the house's damaged areas, so you would have to pay for any additional renovations and upgrades.
Change your locks
Even if there was no crime involved in the disaster, you should change your locks and upgrade your home security. People may be desperate after a natural disaster. After a disaster, changing your locks and upgrading your home security can help you and your family feel more secure.
Consult Your Mortgage Lender
You can be disrupted at work and home by a disaster. In the event of a disaster in which your money is affected, and you cannot pay your mortgage, you should immediately contact your lender.
Your lender might be able to help you if you talk with them and try to get ahead of the issue. A disaster with them may also provide an opportunity to devise a plan to prevent foreclosure.
Locate temporary housing
There will be a need for temporary housing regardless of whether you're renting an apartment or moving in with family or friends. The good news is that you may be able to get temporary housing through your homeowner's insurance policy.
You should ask them whether they will cover temporary housing if you have already filed a claim. You can then submit any receipts related to the disaster to your insurance company and see if you will be reimbursed.
FEMA and the Red Cross, among others, offer programs that can help you find temporary housing through the same government agencies and nonprofits. Find out more by contacting these agencies.
How to Get Disaster Assistance in Your Area
State and local agencies, organizations, and nonprofits can assist regardless of whether a disaster merits a federal major disaster declaration. Also available through the Red Cross and the FEMA app and website are state-level and nonprofit emergency management resources.
Access major disaster declaration resources
Financial assistance is made available to those who have lost their livelihoods after the federal government declares disasters. As a result of these assistance programs, local residents can buy food, pay bills, qualify for unemployment benefits, and receive tax relief. Low-interest loans can be applied for as well.
Long-Term Plans
Getting your financial affairs in order doesn't suffice for surviving a disaster. A financial mistake can have serious long-term consequences. Thus, you must focus on these things to rebuild your health and recover from your trauma.
Reestablish your routines
The importance of reestablishing old routines or developing new ones after a challenging event cannot be overstated. Routines help make life feel normal again. For example, having a cup of coffee in the morning or sitting on the porch after dinner is disrupted by disasters. Make a point of getting back to these little routines or creating new ones.
Consult a professional counselor
A professional may be able to help you understand what happened. According to the American Psychiatric Association, children and adults exhibit similar reactions to the trauma of a disaster.
Mental health professionals may be able to help survivors who are experiencing high levels of stress, anxiety, or a diminished ability to enjoy their lives.
Talk About It
Join an online support group to speak with others who have dealt with similar situations in your community. You may learn from their experiences. You may feel a sense of closure after opening up about your experience. In addition, you could gain new perspectives on yourself and the disaster by connecting with new people.
Join The Community
A support system for disaster survivors can ease the trauma caused by the disaster. You can also rebuild your community by coming together around a common purpose or goal. For example, hurricane Sandy destroyed the boardwalk along the Jersey Shore in 2012. Communities rallied together to help rebuild it.
Monitoring Your Children's Recovery
As much as adults, children can be affected by uncertainty and danger. Even though adults feel helpless, children don't have a sense of control or power. Therefore, teenagers and children in their immediate area are at risk of unusual behavior, and adults should monitor them closely.
Since the incident, parents need to communicate with their children's schools about any new or harmful behavior. In addition, trauma counseling or group therapy may also be beneficial for children and teens.
Consult an attorney
There might be grounds for a lawsuit depending on the cause of the disaster. You might not be able to sue for natural disasters, but you can still speak with an attorney if it's something for which a company or person is to blame.
It May Take A Little While To Restore Your Sense Of Security Even If You Restore Your Home Quickly
Make sure you take care of your family, file your claim, and find shelter. You will need to seek further assistance after addressing your basic needs. Even if your home has been repaired, your work is not finished. After a natural disaster, it is essential to protect your mental and physical health.
Prepare for a disaster as much as you can. Many natural disasters are unexpected, one of the most troubling aspects. Even with some mental preparation, you can know where your efforts should be focused.